FORTESCUE FUTURE INDUSTRIES ACQUIRES 60 PER CENT STAKE IN HyET
6 oktober 2021
Australian based Fortescue Future Industries (FFI) has acquired a 60 per cent stake in Dutch based High yield Energy Technologies (HyET) Group and provided the majority share of financing for the expansion of HyET Solar's Dutch Solar PV factory.
The acquisition marks an important milestone in FFI's vision to produce affordable green hydrogen, with the aim to supply 15 million tonnes of green hydrogen globally by 2030.
FFI Chief Executive Officer Julie Shuttleworth AM said, "FFI's goal is to become the world's leading, fully renewable energy and green products company.
"The addition of HyET Solar and HyET Hydrogen to our portfolio of FFI companies builds on our commitment to develop technologies needed to tackle emissions and global warming.
"We have commenced the design study for a 1 GW Powerfoil factory in Australia and at this scale, we aim to rapidly drive costs down at a greater rate than is achievable with conventional Solar PV technology.
"HyET Hydrogen's technology will support FFI in reducing costs in other areas of the green hydrogen supply chain," Ms Shuttleworth said.
FFI Founder and Fortescue Chairman Dr Andrew Forrest AO said, "Green energies need to be available at an industrial, global scale. We don't have time to wait, we have to act now.
"The technologies of the HyET companies will help us reach that tipping point and the world will begin the journey in earnest to become zero-carbon," Dr Forrest said.
SuperNova NV, the founding partner of the HyET Group of companies, and Royal Vopak of Rotterdam, The Netherlands, remain the only other shareholders in both companies.
FFI and SuperNova NV have also in principle agreed to extend their cooperation to other current and future HyET Group activities.
Rombout Swanborn, founder and director of HyET Hydrogen and HyET Solar said, "We are incredibly pleased to have joined forces with Fortescue Future Industries.
"Not only does this enable us to contribute much more effectively to the creation of a renewable energy infrastructure, but now we also can strongly increase the scale of our activities – two important goals since we started up our companies," Mr Swanborn said.
About FFI:
FFI is the 100 per cent renewable green energy and industry company of Fortescue Metals Group Limited (Fortescue).
FFI is establishing a global portfolio of renewable green hydrogen and green ammonia operations that will position FFI at the forefront of a global renewable hydrogen industry. FFI will leverage Fortescue's world leading track record of innovation and development of large-scale integrated infrastructure assets to deliver FFI's vision of green hydrogen becoming the most globally traded seaborne energy commodity in the world.
Fortescue has commenced its transition from a pure play iron ore producer to a green renewables and resources company, underpinned by the world's first major carbon emitting heavy industry operation to set a target to achieve carbon neutrality by 2030.
FFI is a key enabler of achieving this target through the development of its green electricity, green hydrogen, green ammonia, and other green industrial products.
About HyET:
HyET Group develops technologies that enables commercially viable large scale implementation of renewable and decentralised energy generation and distribution. HyET Group consists of two companies: HyET Hydrogen and HyET Solar.
HyET Solar develops and produces low cost and efficient Solar PV modules (Powerfoil) that are lightweight and flexible. It aims to drastically reduce the cost of solar power. The application possibilities cover a wide span, ranging from low-cost utility scale powerplants to integrated high end architectural solutions.
HyET Hydrogen focusses on developing and selling cost-effective solutions for the storage and distribution of hydrogen. It possesses innovative and industry leading technologies for hydrogen compression and extraction based on electrochemical processes.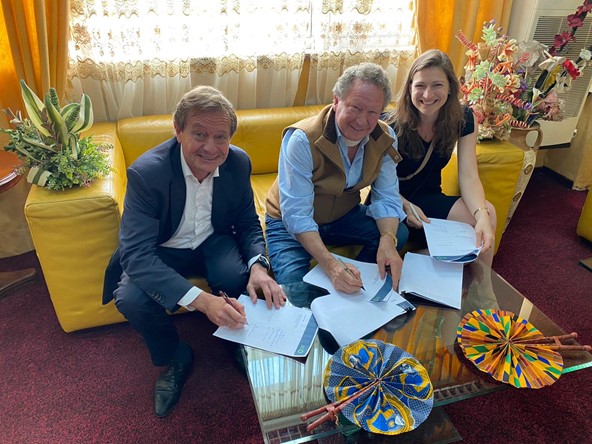 CAPTION - Founder and Director of HyET Hydrogen and HyET Solar, Dr Rombout Swanborn; FFI Founder and Fortescue Chairman Dr Andrew Forrest AO; CEO HyET Hydrogen and Co-CEO HyET Solar, Maria Fennis
Back to overview